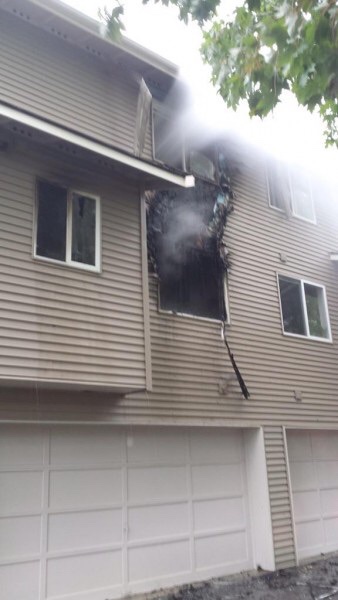 The townhouse I used to live in burned down in a dryer fire. I'm grateful no humans were hurt, but devastated for the three cats that died. I'm also thinking about all the care and attention I gave that home, the first place I lived as an adult on my own. I'm thinking of the roommate experiences and friends falling asleep on my couch, and playing video games with my brothers, and earning my Associates degree. I'm thinking of how safe I felt there when I struggled with agoraphobia. Thinking of my own cats sitting in those windows after I just painted the sills (Oh, the paw prints). Thinking of my friends helping me swap tiles and install lights as I prepared to move to Bellingham. And, because everything reminds me of a song:
"We are ships on an ocean, passing on our way back home...
What we lose in the fire, we gain in the flood." -The Mynabirds.
That's been my theme song for the last couple months, "What We Gained in the Fire." I even wrote about it in my Dealing with Difficult Circumstances post, before the fire ever happened. When the lyrics mention "home," it could be a lot of things, some kind of heaven, maybe. When I listen to the song, I think of a state of mind, a feeling of peace. Basically it's the "Let it Go" of indie pop.
What we gain by letting go...you can see why I'd obsess over a song about that with all that's going on: the serious decline in my mom's health, my former home burning down, a massive decluttering effort (might not compare on an emotional level, but it does stir things up), and today I decided to turn away from some people who regularly shame me for my anxiety or any way I differ from them.
The people I turn away from today, I turn away from them with an open heart. Should they make a gesture of true connection, I will not be blind to it. I am grateful I have so many friends to guide me back to a place of self-compassion when those people make me question my worth, but I won't let them do that anymore.
There's art in all of this. This declutter countdown has opened my eyes to so many complexities that don't need to be that way. The stuff, sure, but also thought patterns, relationships, other people's standards, expectations. It's time for the unnecessary or harmful to go. The family who lost their home will have to grieve. Grief is not clutter.
But this week I learned we can find things to unburden, even with a heavy heart. We take small actions toward peace of mind. Things don't have to be with you to be a part of you.
Now for an awkward transition to the stuff. Here's my physical decluttering effort for the day.
Day 7: 24 Items Decluttered
1. Child's scarf. From when I was a child. I like adult sized scarves now FOR SOME REASON so I never wear this one.
It's better if you don't take the picture
during the cats' dinnertime.
2. Green...scarf? Maybe it's a summer scarf?
3-5. Belts.
6. Hoodie thing. I wanted a lightweight hoodie for cool but not cold L.A. nights, but since it's rayon, it doesn't breathe and only works on cold nights when I'd rather bundle anyway.
7. Tiny bag I'm sure gifted jewelry came in.
8. Tickets to nothing.
9. Scarf hanger from store display.
10. Remote I never set up for my old laptop.
11-13. Stacks of paper!! I made three piles and actually cleared the whole box! I'M DONE
WITH PAPER! I thought it was a huge undertaking to deal with that whole box of papers, but I made one stack a day and I did it!


14, 15. Paper bag pillowcases my brother made as a placeholder gift for me to open when the pillowcases he ordered hadn't arrived. I might cut out the drawings, but I think pictures will be enough.
16-18. Toiletry travel bags. I only need one, if that.
19-22. Lotions and cleansers inherited when my aunt decluttered her bathroom. I'm getting rid of
them for the same reason she did: too many chemicals. Most products end up hurting my skin more than helping.


23. Magazine.




24, Collapsible hamper. Weirdly, I have a sentimental connection to this hamper. I think because my cat, Jolie, likes to play with it. But I have a sorting hamper with three bags in it, and just minimized my wardrobe, so I hope I don't need four hampers!





Alright, well, I had a long to-do list, but it's been
a hard day, so I think I'm gonna call it over and go rest. I am proud of myself for getting through that box of papers, decluttering these items, writing this blog post, setting interpersonal boundaries, and finding healthy ways to mourn the loss of my former home.
Word. (I wrote this in 750words.com and needed one more word.)
Here's the gofundme campaign info for the family that lived in my former townhouse. I left them a small donation and comment. Community outreach is so important. Please check it out.
Help Laura & Chris after fire
"This tragedy is the most heart breaking and devastating thing we've ever had to endure. Words cannot describe the emotions we've felt having to say good bye so suddenly to our babies and the place we've called home. Through this hardship, we have our lives and health to be so incredibly thankful for. We could not have gone through this without the overwhelming love and support we've received from friends and family near and far. As we rebuild, mourn, and heal from this tragedy we want everyone who's helped us to know how grateful we are and how much we appreciate you. From the bottom of our hearts." - Laura Galletly